Brake Testing in Quarries
Clive Kelly also carries out brake testing for companies / clients throughout Ireland. We carry out brake testing in quarries on heavy plant and machinery including laden Rigid and Articulated Dumpers and Loading Shovels. Some of out customers require all equipment to be brake tested to include forklifts, tractors and bowsers, teleporters, fuel trucks etc.  Clive is certified on the use of the brake testing equipment and this brake tester gets calibrated by the manufacturer every 2 years.
We perform on-site brake testing in Quarries and Civil Engineering Projects in Dublin, Clare, Limerick, Tipperary and surrounding counties.
About Brake Testing
The consequences of not getting your heavy plant and machinery brake tested in a quarry can be very serious. It can lead to down time in production, financial cost, injury to staff and the possibility of personal injury insurance claims.
Brake Tester
The  brake testing equipment simplifies the routine testing of heavy vehicle and braking systems to ensure compliance with Health and Safety Regulations and is the accepted standard for instrumented brake testing.
Brake ratio testing of rubber-tyre vehicles in quarries. Vehicles tested include Loading Shovels, and Dumpers.
The brake test can be carried out on any gradient.
The test system Displays and prints test graphs and results as required for Quarries Regulations.
You can be assured that any prices quoted by Clive Kelly will not be in any way excessive.
Please contact us on 087 2196988  for further details.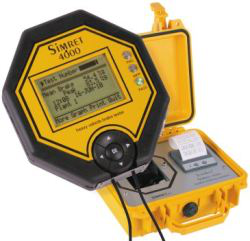 Key points for Brake Maintenance and Testing
Electronic brake testing using a calibrated brake test meter – every 3 months.
BS EN ISO 3450 1996, is

no longer

the standard to follow.
If you cannot get an operators manual/brake test information for the vehicle and there is little or no available information on braking capability, then a brake testing instrument can be used to determine the maximum achievable brake ratio. This is achieved in a series of tests (ideally following a thorough overhaul of the braking systems) after servicing the brakes. See sample brake test table opposite.
Each location must have a minimum of one brake check area for daily brake checks. A simple stopping test may be marked out. See photos below.
The brake check area should be selected with consideration given to safe stopping